Today was an unexpected snow day for us i.e. a closed playschool and an unplanned day out of the office for Mammy. While our IT department were trying to fix my remote access and I was trying to resist the temptation to throw my laptop out the window and bury it in the blooming snow, I got to thinking how nice it would be to have a home office..
For me, a home office wouldn't have to be a massive space - I would quite literally be happy to sit in my 5ft square utility room if it meant a bit of peace and quiet! - but seeing as it doesn't hurt to daydream, I got to searching online for some inspiration and thought sure why not share my dream with you all in a quick post!
Workspace/desk.
Finding a workspace and some storage space doesn't have to cost a fortune. Yes we'd all love to be able to splash out on a marble or leather topped writing desk but really there are a lot more affordable options out there. Ikea set-ups for instance, while being flat-pack and not everyone's idea of fun to put together, are all over Pinterest and Instagram feeds and they can look very chic and much more high-end than they are once you have the right finishing touches.
I have an Ikea Malm dressing table in our bedroom which has a durable glass top and a big drawer underneath which I store makeup in but would also be perfect for storing all your office stationery and bits and pieces. The only downside is that it doesn't have any more drawers along the side so you would need to buy some extra storage. I picked up a two-drawer Malm chest of drawers as well which fits neatly under the dressing table.
Image: Mamavoom Instagram.
Here are a few other Ikea ideas that I found on Pinterest - which show that with a bit of imagination and a bit of spray paint that you can create the perfect workspace.
If you have the space, then this combination of their Alex table top and two sets of the Malm drawers will give plenty of storage space.
Some adhesive contact paper and a fancy drawer handle of your choice could transform my simple Malm dressing table above into something like this:
A can of gold spray paint (or any colour spray paint that you like) can do wonders to brighten up the metal legs of this simple Ikea desk. Find out how here:
http://www.justbellablog.com/2013/06/gold-desk-ikea-hack.html
Seating.
In terms of chairs, you can spend as little or as much as you like. My current seating arrangement is a
Tobias
chair from Ikea that I got for 50% off because it was an assembled display model - so always check the clearance section at Ikea on your way to the tills as you never know what you might find!
I also really like the idea of those button-back chairs, in a soft-toned velour fabric like the following..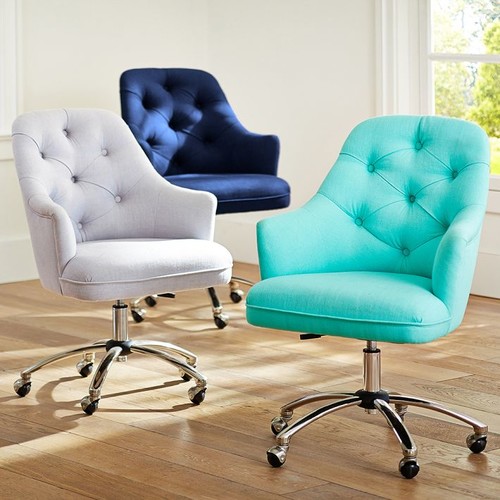 Image: Houzz
This
Button Back Office Chair
from Argos is also really affordable and not too unlike the ones above.
Made.com also has a very stylish selection of chairs including the following modern
Keira
style with copper finishes:
Shelving and Storage.
If I didn't have a toddler that would probably try and climb it, I love the idea of customising one of the
Vittsjo shelving units
from Ikea which come in a variety of sizes.
However a few shelves above the desk is probably a safer solution at the moment!
Images: Pinterest.
Finishing touches.
If you're looking for some desk accessories and wall art, stores such as Penneys/Primark, TK Maxx/Homesense and Ikea have lots of affordable bits and bobs to add some little accents. I'm also loving the gallery wall idea and particularly like the selection of prints that can be found on
Desenio.
And here are some of the current Penneys/Primark accessories to brighten up your workspace - including a handy weekly planner and of course the essential copper accessories and cacti :)
So that's pretty much everything added to my wish list now - and it's probably just as well that we're in the middle of a snow situation so I can't go shopping! I hope this has given you some ideas for your own home office setup. If you have any tips or suggestions for where to shop, DIY hacks or any other comments, feel free to share below!
Bye for now,