I generally don't agree with putting pressure on ourselves to make life-changing New Years' resolutions and I think we put way too much emphasis on sticking to unrealistic goals once the 1st of January rolls around. Each to their own of course and if you do have plans to revamp your health, fitness, lifestyle etc for the New Year then I applaud you but if not then I won't force you to! Instead, here are some simple yet effective New Years' beauty resolutions that are worth thinking about!
1. Wash your makeup brushes every week.
I know I'm always going on about this but I cannot stress enough the importance of keeping your brushes and tools clean.
Make up, bacteria and general dirt along with dead skin cells can quickly build up and increase the risk of spots as well as being rather unhygienic. Also if your brush is caked in make up it won't perform as well as it should and you won't get as flawless a result with your application.
If you are a makeup artist, then your brushes need to be cleaned after every single client but if your brushes are for personal use only, deep clean them once a week with soap or a solid brush cleanser and spot clean them with a spray cleaner in between.
2. It's never too early to look after your skin.
Granted I'm at the age now where anti-ageing products, treating dehydration and filling in the fine lines becomes more important but it is never too early to establish a good skincare routine. It might seem like a pain in the you-know-what but once you get in the habit of using a good cleanser, toner, serum and moisturiser that are appropriate for your skin type morning and evening, your skin will really thank you for it. Skincare doesn't have to break the bank either - on my shelf you will find anything from Boots' own brand to Clarins and everything in between.
3. Have your foundation professionally colour matched.
Porcelain, Ivory, Mahogany, Warm Beige, Honey... the foundation shades out there are endless. Warm skin tones, cool skin tones and neutral skin tones all need different underlying tones in their foundation shades and it's easy to get it wrong. I know I've done so many times. Pick a makeup counter that you trust and ask them to recommend a foundation and colour match you. Then ask them for a sample to take home before you buy so that you can see how the foundation looks under various lighting conditions. You will also need to be able to see how it oxidises on the skin. Then do the same with a few other brands if you can!
The right foundation for your skin tone should blend perfectly into your jaw line and should be the exact same shade as the skin in this area so that you can't even see it. It shouldn't make your skin look orange or grey and should provide the coverage you need while being suitable for your skin type - whether that is normal, oily, dry or combination.
4. Give your makeup bag a good declutter.
Have you had mascaras lurking in your makeup bag since last New Years' Eve? Well now is the perfect time to sort through your collection and bin anything that has passed its best. Plus it's a great excuse to buy some new makeup to replace it and sure we don't need much encouragement do we? Most makeup and beauty products have a shelf life guideline and they shouldn't be kept for longer than that. This post I wrote on
Makeup Expiry Dates
will give you all the details! :)
5. Be kind to your hands.
Extreme hot and cold temperatures, constant washing, sanitising and dishwashing and exposure to the sun mean that your hands are one of the first places to show the signs of ageing. Invest in a good hand cream and keep a tube in your handbag too for on the go applications and invest in a cuticle oil to rub into your cuticles at nighttime. Again hand creams are available to suit every budget but my ultimate favourite when I feel like treating myself is Molton Brown. Penneys/Primark have some affordable yet luxurious feeling Jo Malone-inspired fragrances in their hand creams at the moment and I have a bottle of this on my bedside table so that I don't forget to add it to my nighttime routine!
6. Give your hair a weekly treatment.
Colour treating, sun exposure or use of heated appliances can play havoc with your hair and leave it feeling and looking dull, dry or brittle. An intensive hair mask once a week will replace any lost moisture and provide some protection from the elements and from heat damage.
Some of my personal favourite hair masks include:
L'Oreal Professional Mythic Oil Masque*
(Find it
here
on Look Fantastic)
(*affiliate link)
Garnier Ultimate Blends Honey Treasures Restoring Mask.
This is available in most pharmacies and supermarkets and online at Boots
here
. And by the way it smells incredible!
Maria Nila Luminous Colour Hair Masque.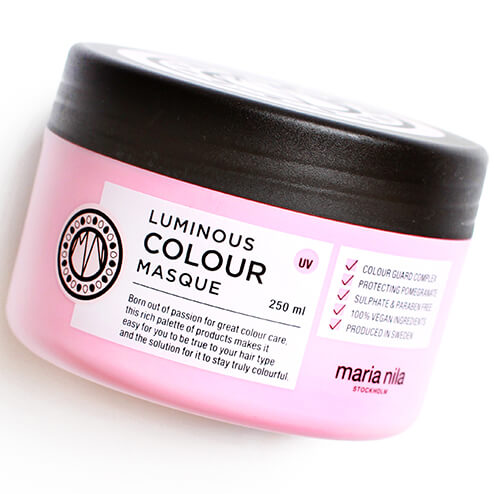 This one was a Glossybox discovery and although I had never heard of this brand before I was super impressed! You can find out more
here
on the Maria Nila website.
So that's everything for now that I think is worth focusing on in your beauty routine for 2018. Have you anything else to add to the resolutions list? If so, please feel free to comment below!
Wishing you all a peaceful and happy New Year and all the best for 2018!
Bye for now,